Hello, all!
It's the first of October, so you are in for an action-packed post. Today, I shall be reviewing how I did with the goals I set for myself last month (and based on the title of this post, I'm guessing you have some idea of how things went) and setting some new goals for the current month.
Like I said, action packed.
First up, last month's goals...
1. Publish Second Nature
This is where that whole partial credit thing comes in because I (deep breath......another deep breath........and one more for safety.......) half did this.
And now I am seriously
freaking out
because I admitted it. (So many issues. So little time.)
True to MJ fashion, the paperback is now available. The e-book, however, is not. This happened with the last book, too. Apparently, it's just going to be a thing with me. But yeah. The paperback has been released into the wild. Here's proof:
I'm trying to get the e-book out into the world, but I seem to be struggling with the formatting. There are a few lingering issues I haven't yet ironed out. I think I've fixed everything, but then it turns out that not only did I not fix things, I managed to break a few things more. And so on and so forth.
Sigh.
I'm working on it.
But, yeah. That happened.
2. Finish the first draft of Vinnie & Ellie
Nope. Didn't achieve this goal. I am getting closer to the end, but I didn't make enough progress to even award myself with partial credit here. My brother and I did, however, brainstorm a potential legitimate title for this project. So, that's exciting. Ish. But regardless of what it's called in the end, it will always be the Terrible, Horrible, No-Good, Bad Romance Novel to me.
3.
Finish the first draft of Retail Rhapsody
Didn't quite achieve this goal, either. The poems are somewhat organized now, and I have a clearer idea of what this project should maybe look like, so I feel okay awarding myself with some partial credit here. Here's what the layout storyboard looks like for this project. It looks a little different now, but you'll get the general idea.
4. Walk, run, or bike at least three miles per day
At long last! A goal I actually completed! I don't know why I add 'run' or 'bike' to that list because I don't do either these days, but walking—yeah, I did that. In my house, with my air conditioner running, to protect me from...you know, Florida.
Some days, I even walked
more
than three miles.
Because that's how I roll.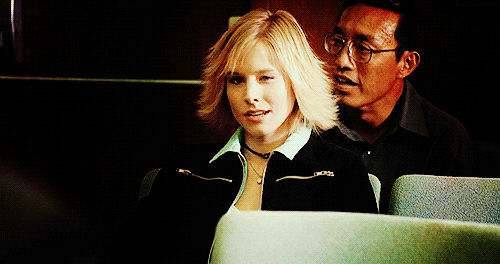 On an unrelated side note, is anyone else super psyched
for next year's Veronica Mars revival on Hulu?
All right...October Goals.
1. Release Second Nature's e-book editions
Place your bets now to see how long this will take!
2. Finish the first draft of Vinnie & Ellie
Wait a minute...that sounds familiar.
3. Finish the first draft of Retail Rhapsody
So does this. Hmmm.
4. Log at least three miles per day
Ha! That one's different. No more running or biking for me! Woo Hoo!
And on that possibly very sad note, I am outta here. Those e-books won't format themselves. (I know because I've been unsuccessfully waiting for that to happen...)
Did you make any goals for October?