It's the first Wednesday of the month, which means it's time for another action-packed installment of the
Insecure Writers Support Group
.
I'm assuming that everyone coming out here today is already well-versed in this group, but if you're looking for more information, or a complete list of participants, click on the above link.
This month's co-hosts are:
Stephen Tremp
,
Pat Garcia
,
Angela Wooldridge
,
Victoria Marie Lees
, and
Madeline Mora-Summonte
.
This month's (optional) question asks,
"What do you love about the genre you write in most often?"
But I'm skipping that question in order to discuss with you something that's been weighing on my mind.
How do you know when/if you should put aside a project?
See, I have this WIP I've been working on off and on (more off than on) for a while now. Its working title is
Vinnie & Ellie
, so you may already be somewhat familiar with it. In case you're not, it's a maybe-not-actually-a-romance novel I decided to pull out of my unfinished manuscript pile last year in an attempt to, you know, finish it.
And this attempt started off reasonably strong, I thought, but has steadily slowed over the past few months. Whatever momentum I had at the beginning is gone. It's like I no longer have a feel for the characters, who they are, or what it is they want or do or...anything else. It feels as though the only way this book will be finished is if I make some kind of deal with a crossroads demon. I'm stuck. I'm blocked. I'm...I don't know. Disinterested, maybe. I don't know exactly what it is, but every time I sit down at the computer to work on it, I soon find myself doing my best Cave Slayer impression.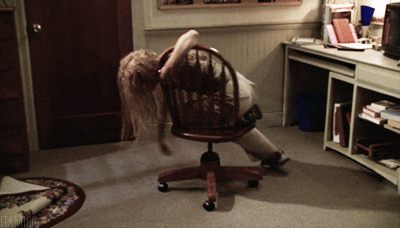 I don't want to give up on this project completely. I like the main characters (mostly) and I like where the story's headed (mostly), or at least where I think the story's headed. (Or where I'd like it to head. As much planning as I do, I still seem to never truly know where a story's going to end up.) There are a pair of scenes of which I am particularly fond (mostly...just kidding. I really am fond of them, which for me, is really saying something) and I would hate for them to go to waste.
But in spite of these truths, I just can't seem to make myself work on it.
Which brings me back to my initial question.
How do you know when/if you should put a project aside?
Should I find a way to power through this dry spell (or whatever it should be called)? Should I stick it back in the unfinished manuscript pile and find something else to work on? Should I give up writing in favor of becoming a professional consumer of baked goods? (That
is
a job, right?)
Have you ever been in this situation? What did you do to rectify it?
Thanks for stopping by today. See y'all next time.