It's the first Wednesday of the month, which means it's time for another action-packed installment of the
Insecure Writers Support Group
.
I'm assuming that, by now, everyone coming here will be well versed with the IWSG, but in the event that you're new (and welcome, if you are!) or would just like more information or a complete list of participants, please click on the above link.
This month's co-hosts are
Olga Godim
,
Chemist Ken
,
Jennifer Hawes
, and
Tamara Narayan
. And let's not forget the group's founder,
Alex J. Cavanaugh
.
This month's (optional) question asks, "
Have you ever slipped any of your personal information into your characters, either by accident or on purpose?
"
Sure. Well, maybe. I guess that depends on what one considers personal information. But various facets of me do leak into my writing. Some on purpose, some not.
For example, sarcasm. I am a sarcasm-based lifeform, and as such, I have a tendency to create sarcasm-based characters. Some are more sarcastic than others (I'm looking at you, Cate...), but they all have that tendency built into their DNA.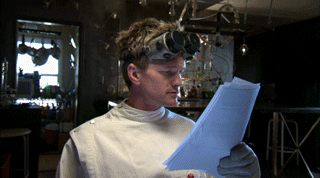 And because I am from New England, my characters also tend to be from New England (well, at least the ones not in my fantasy novels). I do that because I'm familiar with the region, and I like the authenticity it can lend to a story.
These same characters root for Boston sport teams, drink the occasional whiskey, and often love
Buffy The Vampire Slayer
and
Firefly
.
Which makes it sound like I have an entire army of sarcastic, whiskey-swilling, Red Sox fans when the truth is that there's only two such characters because (A) fantasy has been my primary focus for ages now and (B) it takes me a million years to write anything.
But in the interest of getting back on track...sometimes, these similarities aren't deliberate, or even intentional. Sometimes, they sneak in there and I don't realize it until much, much later. And occasionally, they're entirely perceived by readers who know me or, as it turns out, my family.
The Man, for example, came home from work one day and told me that his co-workers had decided that he was one of the characters in my novel,
Effigy
. When he told me which character, I had a good long laugh over it because he wasn't that character—or any character, for that matter—but it didn't stop anyone from finding similarities and reaching their own conclusion.
But I don't mind. Because it was hi-larious.
What about you? Have you ever written yourself or parts of yourself into a book or character? If not, do your readers think you did anyway?
Thanks for stopping by, y'all.