Well, we're in the home stretch of the
A to Z challenge
.
Today I thought I'd talk about
xkcd
, the online comic strip featuring stick figures and geek humor. Sadly, I don't understand a lot of the science-centered strips because my science smarts tops out at Mr. Wizard (or Bill Nye the Science Guy if you're too young to know who Mr. Wizard is. And if you are don't tell me.), but fortunately for people like me, there's a website called
explain xkcd
which does just as its title suggests: provides detailed explanations for those in need.
But fortunately, there have been several strips for which I do not require an explanation. They're the pop culture offerings. There was an amazing strip one day featuring
Movie Narrative Charts
from Lord of the Rings and Star Wars and Jurassic Park and a couple other films. I really want to post it here, but this little blog would not do it any justice because it's the kind of thing that requires a large screen and time to peruse it.
This one is my absolute favorite: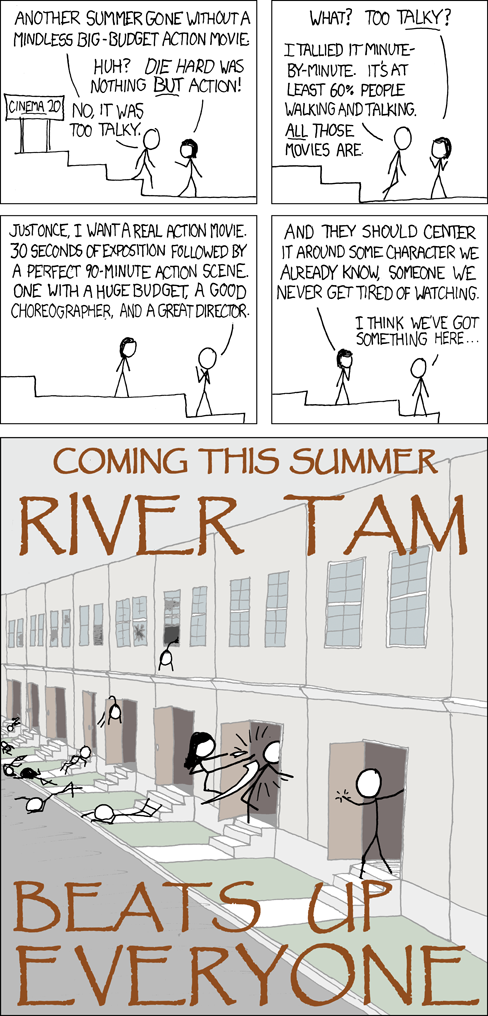 And one last thing before I go...when I was struggling to think of a post for today, The Man, in his helpful manner, suggested the song Xanadu by his favorite band Rush. So here in his honor is the video (please note it's super long):